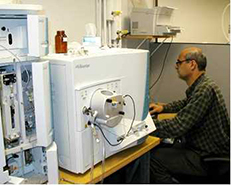 Testing method
We make efforts to serve customers with high-quality product and service. We obey quality system and standards strictly. And we adopt most advanced analysis instrument to inspect our products.
•HPLC (Varian Surveyor dual pump HPLC System with autosampler, and Waters gradient HPLC System)
•LC-MASS (ThermoFisher)
•Micro-Ultracentrifuge (Beckman Coulter),
•Fluorescence
•DSC
•IR and UV spectrometers
•Laser diffraction particle size analyzer
•Precision microscopes
•Thin layer chromatography
QA system
We complete QC testing through advanced testing method relying on advanced equipments. In quality control aspect, we always keep international standard.
Quality commitment
Tianjin Anhao promises we operate our quality system strictly according to regulations and laws. And we constantly improve our SOP.